Rafts to my left,  rafts to my right, and countless stretch ahead and behind me. I'm setting off as part of a pirate armada, or at least that's what it feels like. Though here on the Li River, it's less Jack Sparrow and more Ching Shih.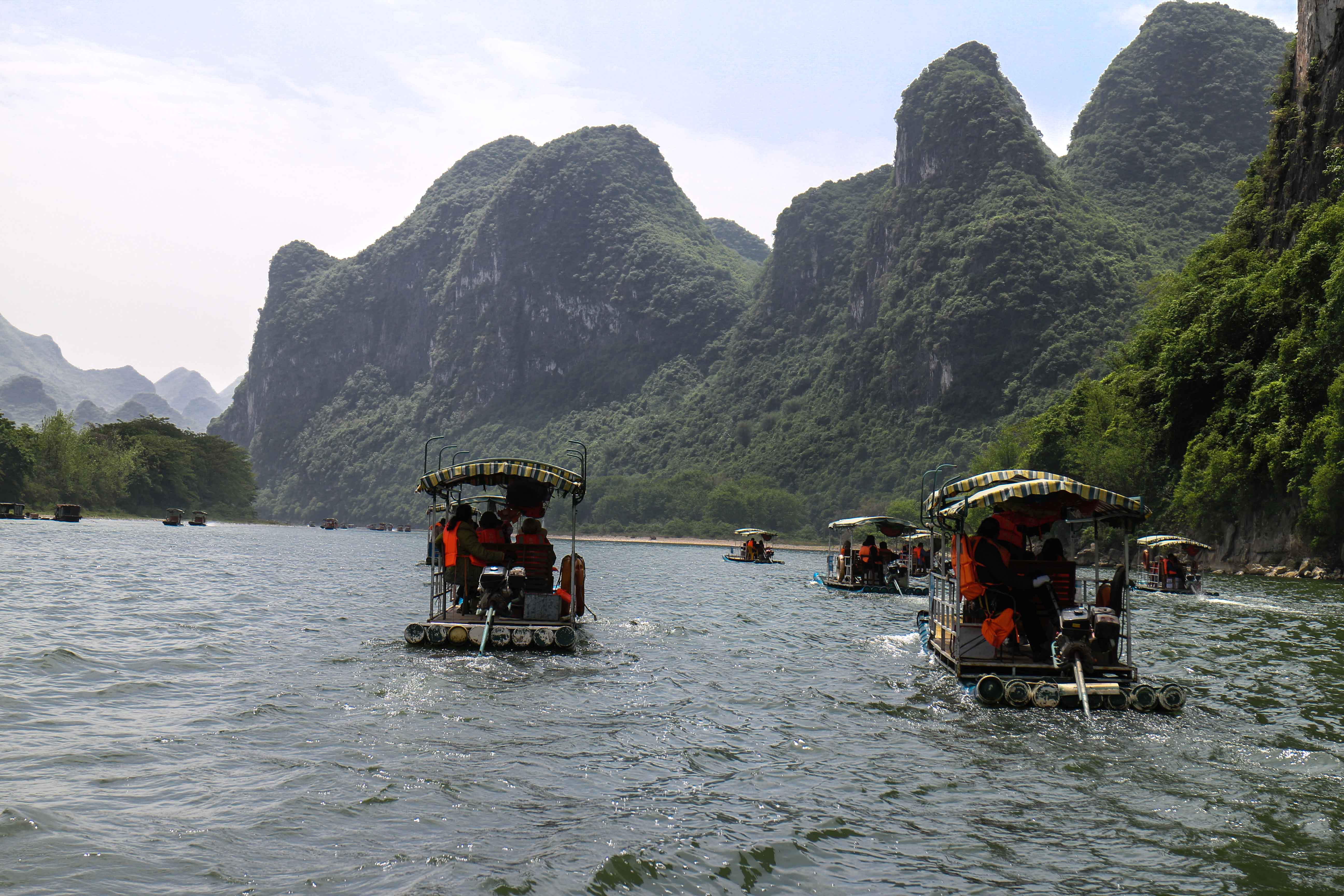 I may be floating on top of the water, but I'm actually surrounded by seabed. Millions of years ago, Guilin's breathtaking hills used to be at the bottom of the sea.  Guilin was pushed above sea level when Indian and Asian tectonic plates collided together.
Originally carved underwater, further erosion of the soft limestone by wind and monsoon rains formed the awesome peaks and troughs that can be seen today. This type of terrain is known as karst topography, and it's found hand in hand with caves and underground pools, such as the Li River's famous neighbour – Guilin's Reed Flute Cave.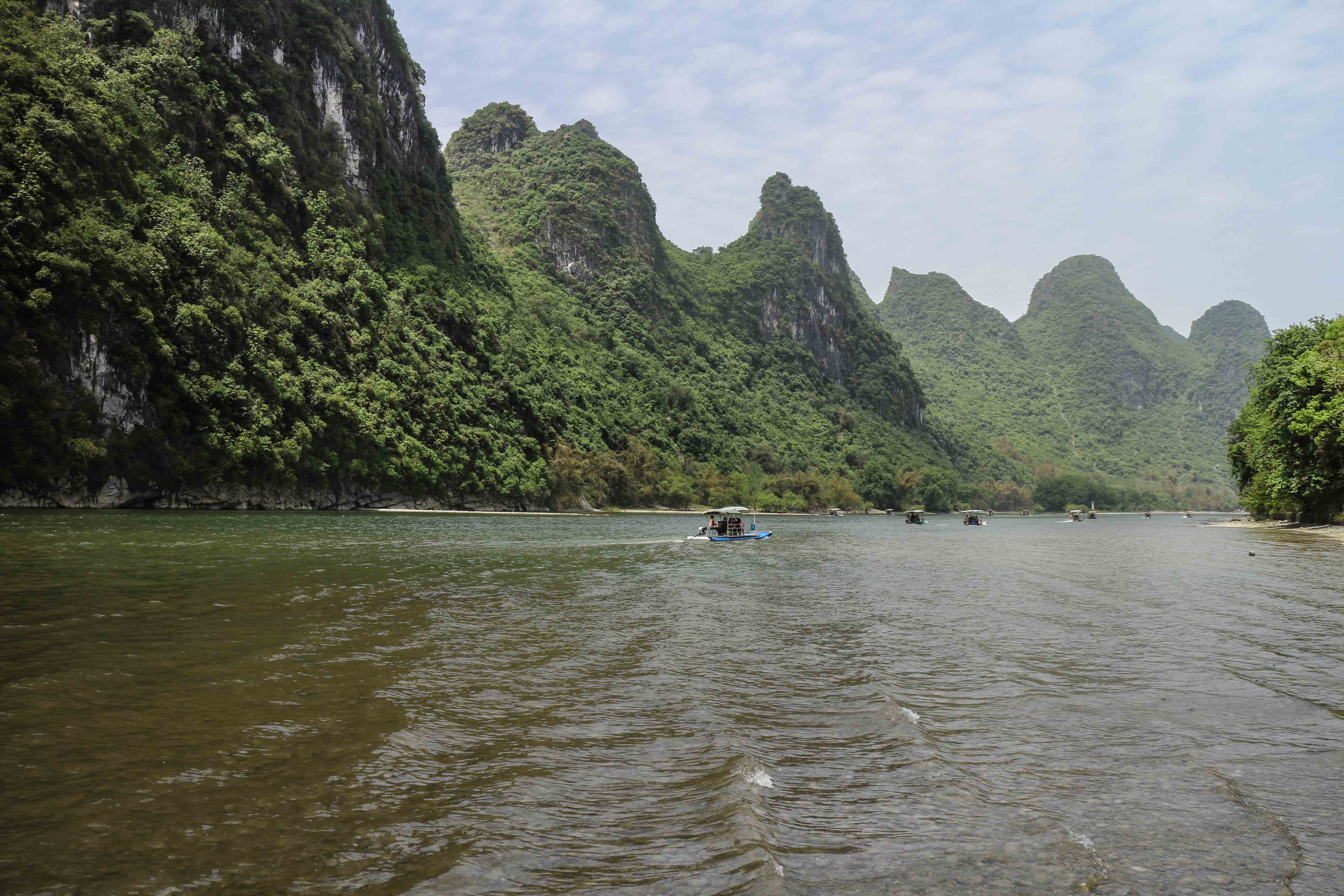 There's an old saying in China; "Guilin's hills and water are the best under heaven", and it's easy to see where inspiration for this came from. But this means that the Li River is a very popular spot with Chinese tourists. Though it's all part of the experience, by adding to the pirate fleet!
Rafting the Li River is the traditional way to traverse it, though the rafters have now sadly upgraded their boats. Plastic has replaced their original bamboo, and little motors have been added to the rafts. Much of the noise is enveloped by the river, leaving a soft chug behind. Life goes on along the banks as we drift by, with farmers tending to their fields and cattle, and women washing clothes in the river. Water buffaloes amble along the rocks, and eagles soar overhead.
Unfortunately time drifts with the raft, and we have to rejoin the bank.  A group of Chinese villagers quickly spot us and scurry over the pebbles to sell fruit, and flower headbands. Turns out we were the actual booty at the end of the trip.
Top tips for visiting the Li River:
There are different ways to journey along the Li River from various spots, stretching from Guilin to Yangshuo. The most popular are cruises and rafting. Cruises last longer, but rafts offer a more authentic, private experience. Each raft takes up to four people only. Mine left from Caoping, and I can highly recommend the experience. I've pinned the location of Caoping on a map below. There were no cruises on this stretch of the river whilst I was there.
Rafting along the Li River is weather-permitting. During bad weather, or when water levels rise, rafts won't be available though river cruises may still run. I visited in early April, and the weather was perfect for rafting.
Whilst visiting Guilin, I was based in Lujia, a sleepy tourist village. It's a great base from which to explore Guilin and its surroundings. I stayed at the Flower Hotel and although it was as cheap as chips, it was one of the best places I stayed in my trip around China. The owner organised an excellent, private English-speaking driver/tour guide for us for three days according to our own itinerary. In a land where barely anyone speaks English this was a much-welcomed oasis and allowed us to make the most out of our short stay in Guilin.
For more of my travel around China and related tips, click here (constantly updated at the moment).