A man's rice noodles dribble out of his mouth as I walk past. His mouth remains agape – my appearance has made him forget that he's eating.
He's not the only one. A few metres away, a group of girls giggle and point in my direction. Two middle-aged women angle their mobiles to take selfies with me in the background.
No I'm not Nicole Kidman, or delusional. I'm just a white woman in Beijing, and for many of these people I may be the first one they've ever seen. My curly hair and green eyes make me even more of a curio, and most openly gape as I walk past: I'm probably the equivalent of a polka-dot panda ambling across your room right now.
I'm in Yuyuantan Park to see Beijing's Cherry Blossoms – something that's equally rare to me. China doesn't have the fame of its Asian neighbours as a place to visit Cherries, but they bloom all over the country. In Yuyuantan there are over 2000 Cherry trees, spanning 30 different varieties. Whites, pinks and creams mingle with each other, and petals flutter down on the paths with each little breeze, just like falling snow.   In scientific nomenclature, all Cherry tree varieties belong to the genus Prunus, with the most well-known ornamental species being Prunus serrulata.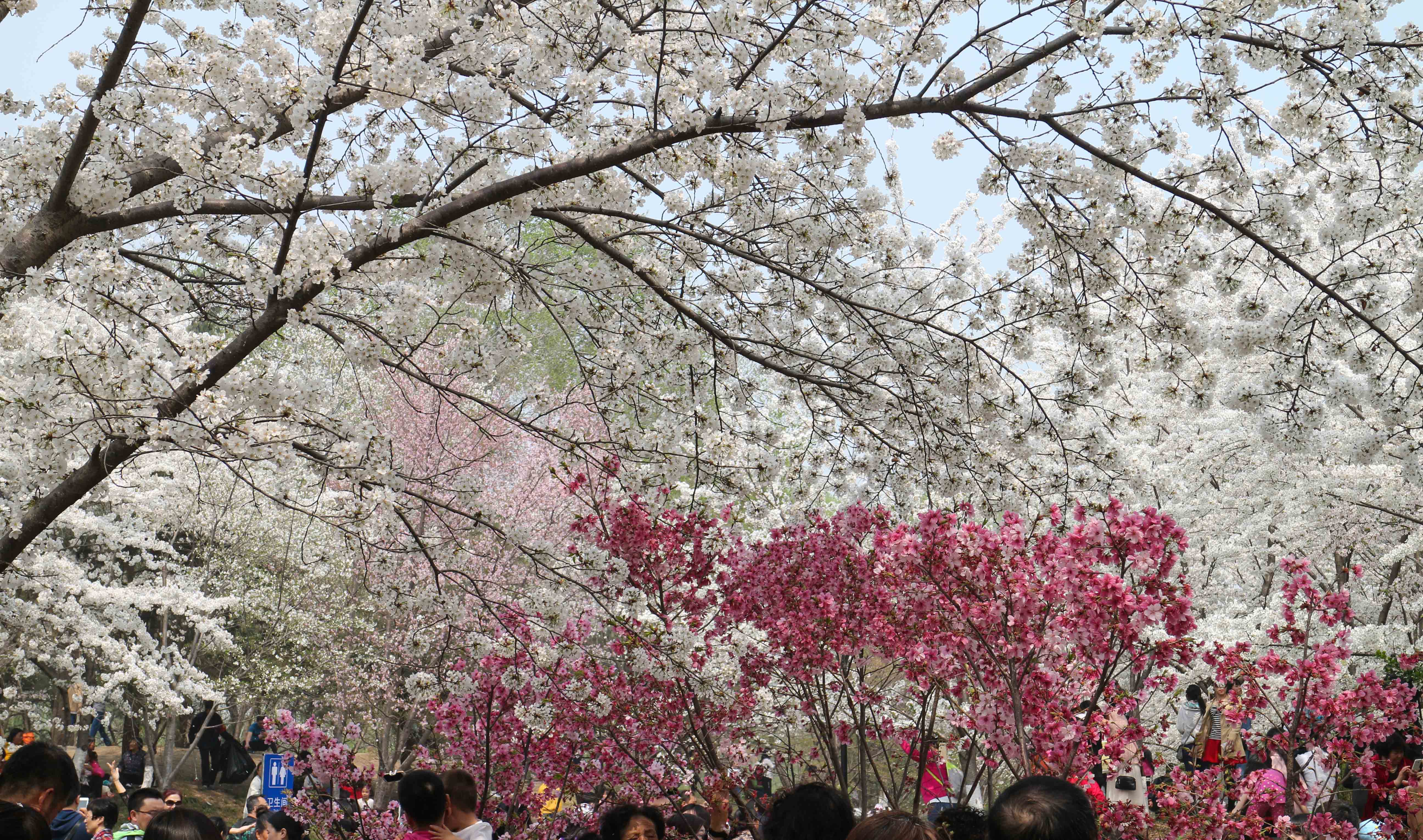 The blooms don't hang around long. Each tree remains in bloom for about a week, before the petals are replaced by leaves. Their transience is why Cherry Blossoms are celebrated across Asia as symbols of the ephemerality of life.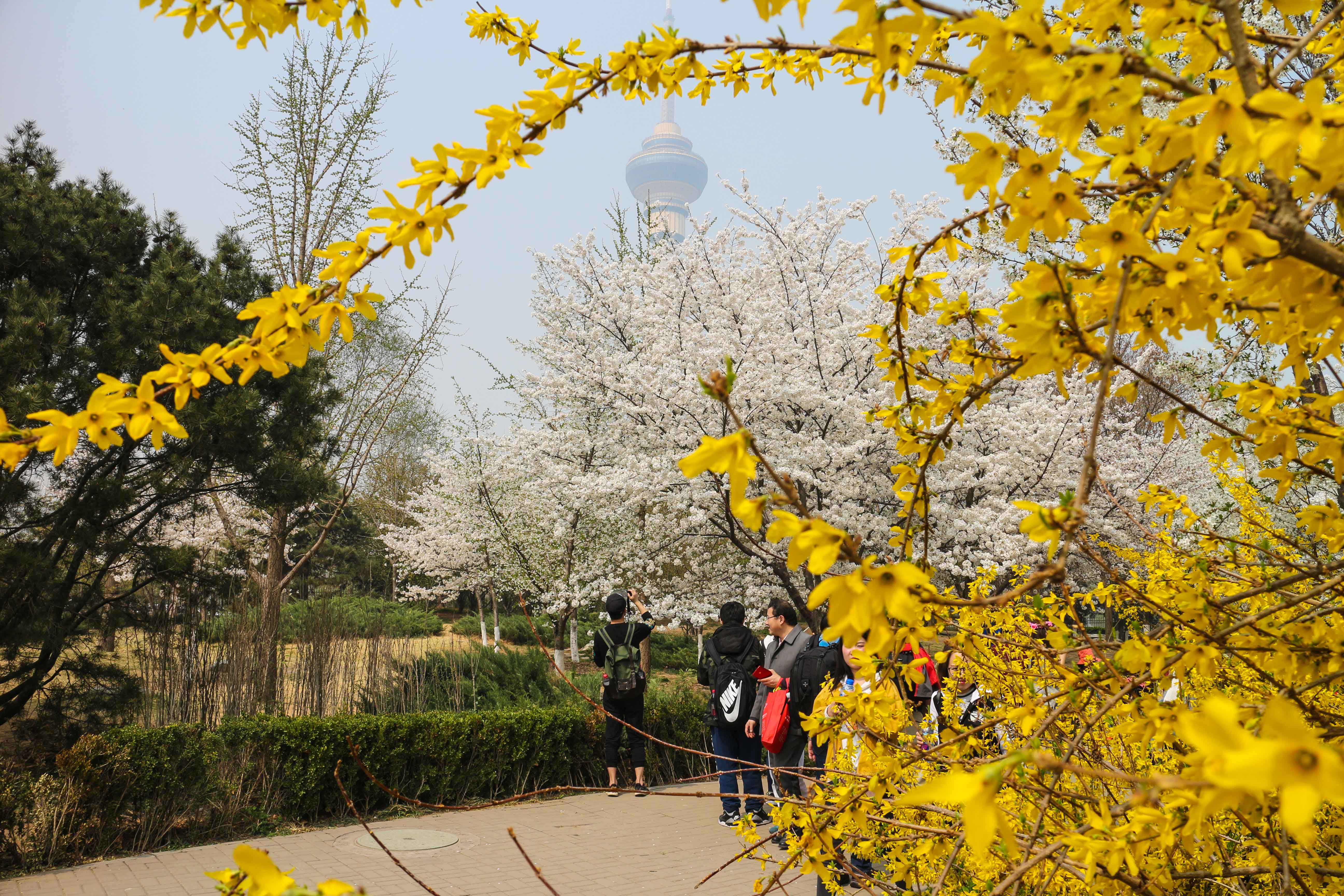 All together, in Yuyuantan Park, the bloom typically stretches over a month between late March to late April. And on weekends, it seems that the whole of Beijing comes out to enjoy them. The park gets super crowded, and although this mars the delicacy of the blossoms, it does become the ideal place to watch Beijingers perfect their selfie craft.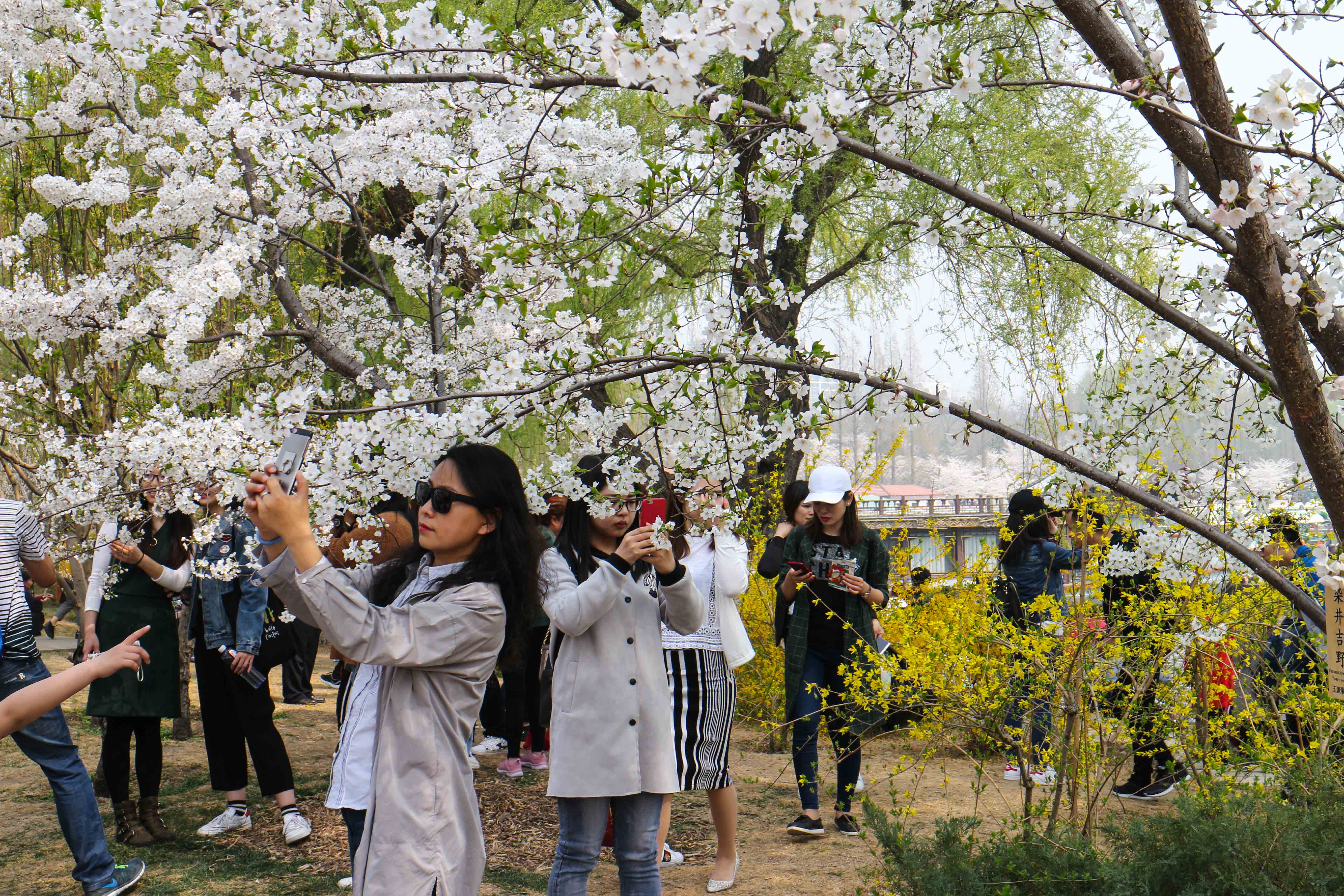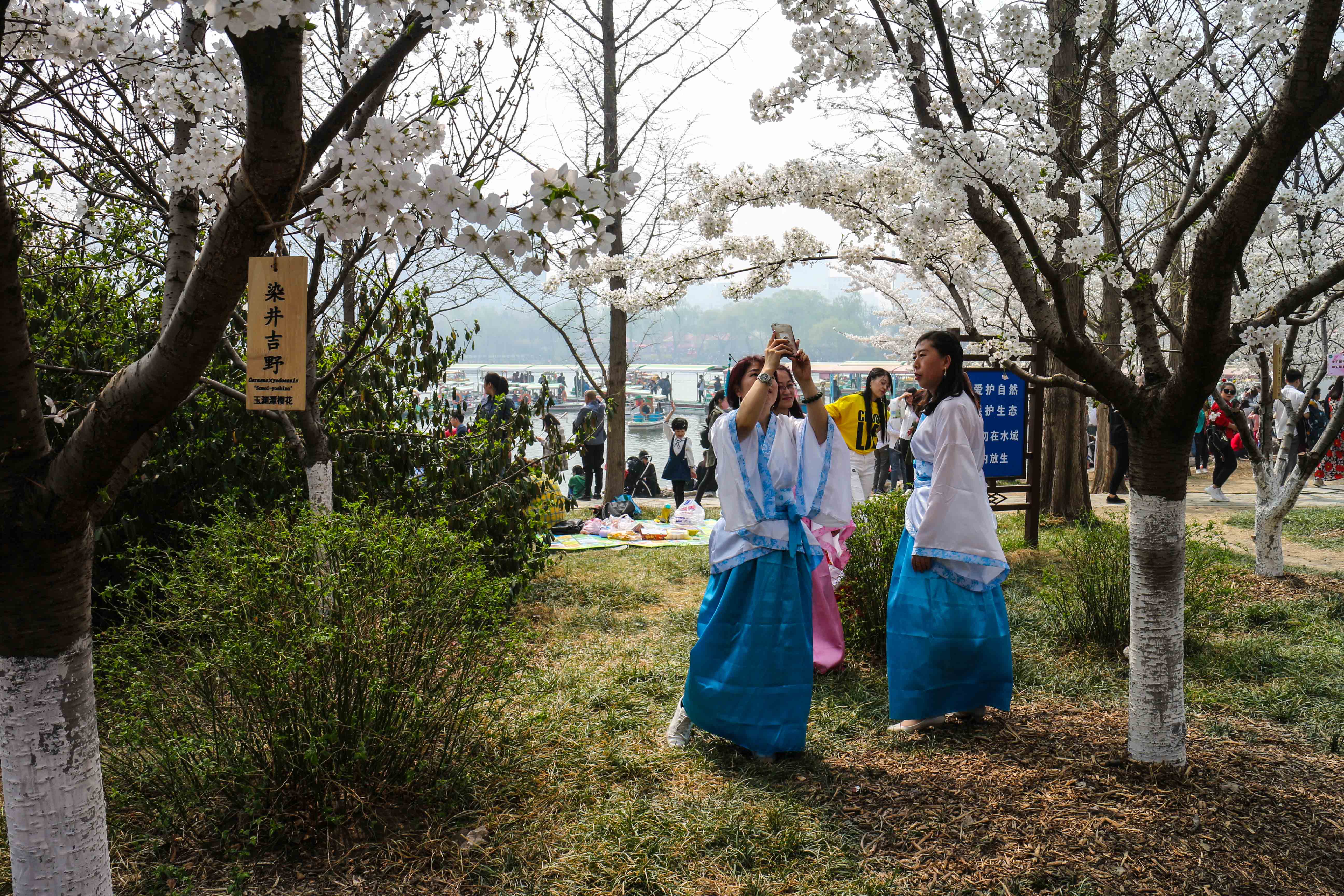 Surprisingly, the Cherry Blossoms don't have a scent, or at least none that manages to make itself known in Beijing's polluted air. In the park, I allowed myself a break from my face mask but it's time to protect my lungs and put it back on again. Beijing has been blanketed in toxic smog for the whole time I've been here.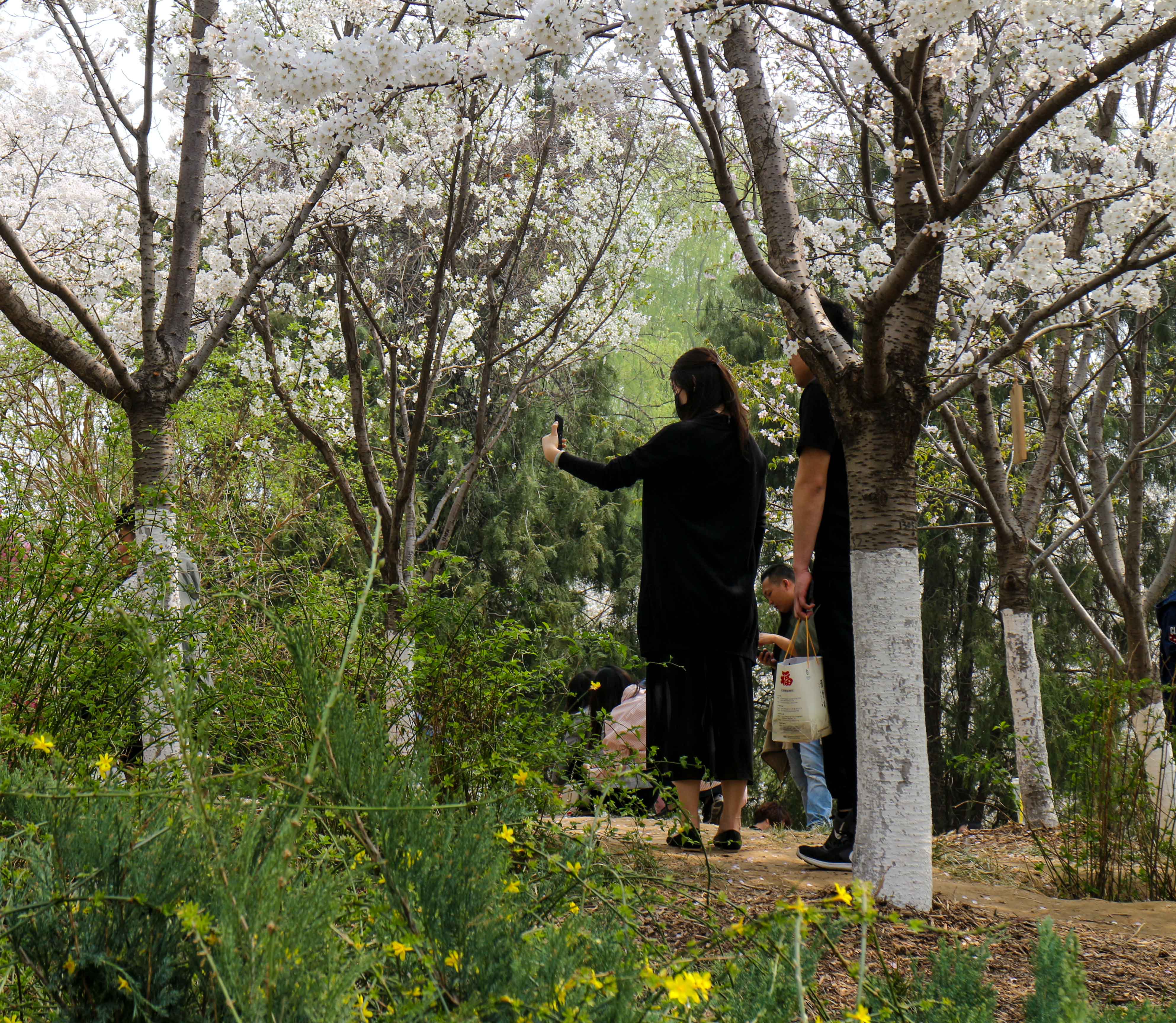 As soon as I cover my face, the gapes subside. Sadly, a clunky face mask is more of a normality here. Although China has taken drastic measures to cut its air pollution over the last few years, they still have quite a long way to go.
I did keep my mask off long enough to get my own selfie though! When in Beijing…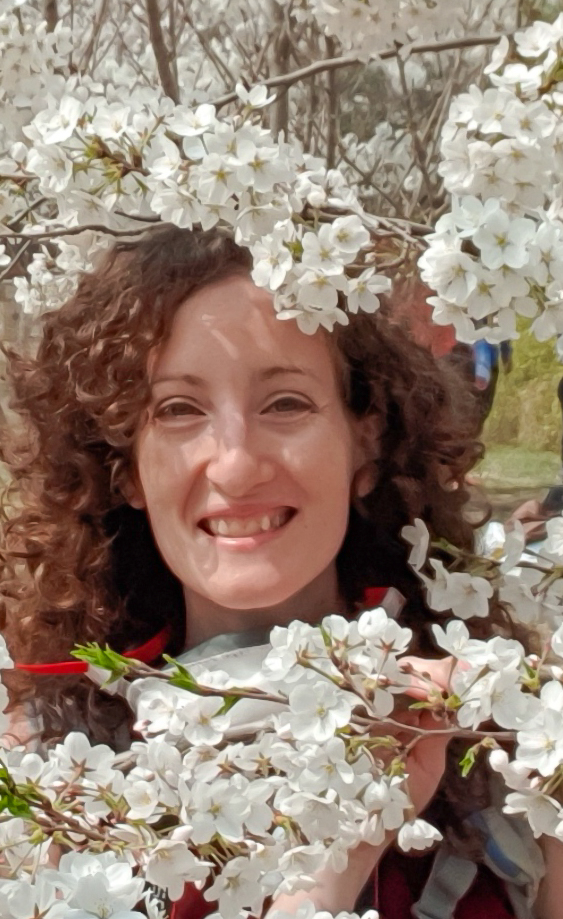 Top tips:
Your best bet to see Cherry Blossoms in Yuyuantan Park is to time your visit between late March to early April. The trees don't bloom at the same time each year, so getting the timing right is a combination of luck and science. If you're travelling round China, like I was, keep in mind that Cherry Blossoms can be found in lots of places and won't all flower at the same time due to different climates, so you might be able to maximise your odds by travelling with the predicted pattern of bloom.
If you're going to Beijing, pack a face mask with a P3 air filter. Your lungs will thank you.
Yuyuantan Park has an entrance fee of RMB10 during its Cherry Blossom festival. It's a bit out of the centre of the city, but easily reached by taxi:
I stayed in the Beijing Pudi hotel, which was in an excellent location. No complaints except that most of the staff couldn't speak English, but this is the norm in Beijing.
If you're not Asian, be prepared to be stared at the whole time you're there. People will ask you to take selfies with them. If this makes you uncomfortable, remember that you can say no.  (Many won't ask, and will just snap away.)
For more of my travel around China and related tips, click here (updated soon).